Guide to 2009 Lincoln Cents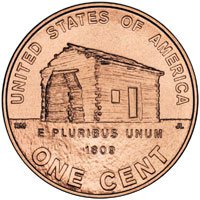 The year 2009 marked the 200th Anniversary of the birth of Abraham Lincoln and the 100th Anniversary of the Lincoln Cent. In recognition of the Bicentennial, a number of specially designed coins were issued by the United States Mint.
The 2009 Lincoln Cents (Buy on eBay) featured four different reverse designs, released in approximately three-month intervals. The four designs represent different stages in the life of Abraham Lincoln, from his humble beginnings in Kentucky to his Presidency in Washington, DC. Each coin's release was accompanied by an official launch ceremony and roll exchange. These events became popular destinations for coin collectors and Lincoln enthusiasts.
The first design was released on Lincoln's 200th birthday, February 12, 2009. The final design was released on November 12, 2009.
Learn more about the 2009 Lincoln Cent Designs.
2009 Lincoln Commemorative Silver Dollar
A special commemorative silver dollar was released in 2009 to honor Abraham Lincoln. The obverse of the coin features a striking rendition of President Lincoln and the reverse features the closing words of the Gettysburg Address.
The 2009 Lincoln Silver Dollar (Buy on eBay) has a composition of 90% silver and 10% copper. Both proof and uncirculated versions of the coins were available with a maximum authorized mintage of 500,000 across both options. The coins originally went on sale at the US Mint on February 12, 2009, and sold out quickly.
Learn more about the 2009 Lincoln Commemorative Silver Dollar.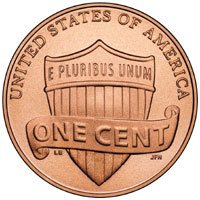 2010 Lincoln Cents and Beyond
Following the four different reverse designs issued in 2009, a final new reverse design will be used for the 2010 Lincoln Cent (Buy on eBay). This design is intended to be emblematic of Abraham Lincoln's preservation of the United States as a single and united country.
From 18 different candidates initially prepared, a reverse design featuring the Union Shield was selected. This shield features 13 vertical stripes joined at the top with a single horizontal bar with the inscription "E Pluribus Unum." This represents the original 13 states joined together in one compact union to support the federal government. The obverse design of the Lincoln Cent will continue to feature Victor D. Brenner's portrait of Abraham Lincoln with original details restored.
Te new Union Shield design will officially replace the prior Memorial reverse design and will remain in place for the foreseeable future. The 2010 Lincoln Cents was officially launched into circulation on February 11, 2010, with a ceremony held in Springfield, Illinois.
View more information and background on the 2010 Lincoln Cent.