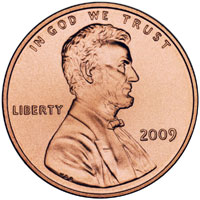 On February 12, 2009, the United States Mint launched the first of the newly designed 2009 Lincoln Cents. This date also marked the 200th anniversary of the birth of Abraham Lincoln.
The first reverse design for the 2009 Bicentennial Lincoln Cents features the image of a log cabin to represent Lincoln's humble beginnings in Kentucky. The inscriptions on the reverse include Lincoln's birth year 1809. The obverse design of the 2009 Lincoln Cent remains as the classic portrait of Lincoln used since 1909.
The launch ceremony was held at La Rue County High School in Hodgenville, Kentucky. The ceremony was conducted by US Mint Deputy Director Andrew Brunhart and Kentucky Governor Steven Beshear. Children in attendance received the first of the new pennies for free. Other attendees were given the opportunity to exchange currency for rolls of the new cents.
An estimated 1,500 people attended the ceremony for the 2009 Birthplace Lincoln Cent. About $5,000 worth of the new pennies were purchased during the exchange.
The event photos for the February 12, 2009 Hodgenville, Kentucky launch ceremony are provided courtesy of Mike Forader.