The second reverse design for the 2009 Lincoln Cent represents Lincoln's formative years spent in Indiana (Buy on eBay). Chronologically, this covers the years of his life from 1816 to 1830.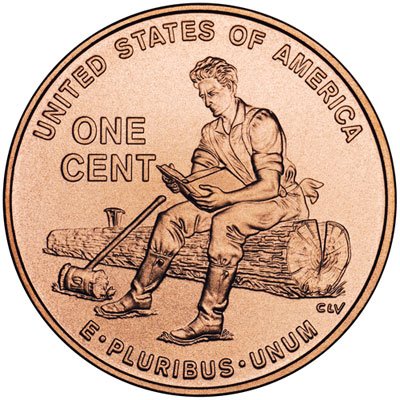 The reverse depicts a young Abraham Lincoln taking a break from rail splitting. He sits on a log to read a book and educate himself, with his tools set aside momentarily. The words "United States of America" and "One Cent" appear above and in the field to the left. The motto "E Pluribus Unum" appears below the scene. The designer and sculptor of the reverse is Charles L. Vickers.
The "Rail Splitter" Penny was officially released into the channels of circulation on May 14, 2009. The official launch ceremony was held on the same day in Lincoln City, Indiana. An estimated 3,000 people were on hand for the event and 20,000 rolls of new pennies were exchanged following the ceremony.
See also: