The first reverse design of the four different 2009 Bicentennial Lincoln Cents is a representation of Abraham Lincoln's birth and early childhood in Kentucky (Buy on eBay). Chronologically, this would cover the years of his life from 1809 to 1816.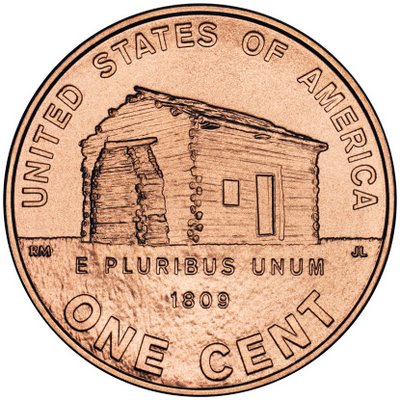 The reverse depicts a log cabin to symbolize Lincoln's humble beginnings in Kentucky. The motto "E Pluribus Unum" and the words "United States of America" and "One Cent" are included. The date of Lincoln's birth "1809" appears below the cabin. The designer of the reverse is Richard Masters and the sculptor is Jim Licaretz.
The coin was first released into circulation on February 12, 2009, the exact 200th anniversary of Lincoln's birth. The official launch ceremony was held in Hodgenville, Kentucky. An estimated 1,500 people attended and 10,000 rolls of new Log Cabin Pennies were purchased at the roll exchange.
See also: