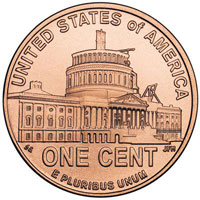 The 2009 Lincoln Cent (Buy on eBay) features four different reverse designs, which were released into circulation at roughly equal intervals throughout 2009. This was followed by the introduction of a fifth and permanent design change released in the follow year.
The release date for the first 2009 Lincoln Cent design representing Lincoln's birth and early childhood took place on February 12, 2009. This date was chosen because it was the exact 200th anniversary of Abraham Lincoln's birth. This same date was also be used for the release of the 2009 Lincoln Commemorative Silver Dollar. The three other designs for 2009 were released approximately every three months throughout the rest of the year.
Since the coins were struck for general commerce, 2009 Lincoln Cents can be found in circulation and sometimes could be obtained from banks following the official circulation release dates. The US Mint also offered specially packaged 2009 Lincoln Cent Rolls for collectors. These were generally offered to coincide with the circulation release dates, although all rolls have since sold out.
The full release schedule appears below.
2009 Lincoln Cent Release Schedule
| 2009 Lincoln Cents | Release Date | Launch Ceremony Location |
| --- | --- | --- |
| Birthplace | February 12, 2009 | Hodgenville, Kentucky |
| Formative Years | May 14, 2009 | Lincoln City, Indiana |
| Professional Life | August 13, 2009 | Springfield, Illinois |
| Presidency | November 12, 2009 | Washington, DC |
2010 Lincoln Cent Release Date
| 2010 Lincoln Cent | Release Date | Launch Ceremony Location |
| --- | --- | --- |
| Union Shield | February 11, 2010 | Springfield, Illinois |