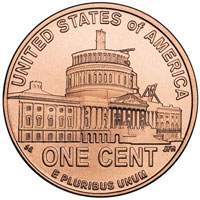 The launch ceremony for the final 2009 Lincoln Cent design was be held on November 12, 2009 at 10:00 AM ET. The ceremony took place in Washington, D.C. at the Ulysses S. Grant Memorial at the base of the west side of the U.S. Capitol.
The fourth 2009 Lincoln Penny design represents Lincoln's Presidency in Washington DC from 1861-1865. The half completed Capitol Dome is depicted, as designed by Susan Gamble and sculpted by Joseph Menna. The obverse design features the portrait of Lincoln designed by Victor D. Brenner.
The ceremony for the 2009 "Presidency" Lincoln Cent drew a much smaller crowd than the previous events. Contributing factors were inclement weather and the availability of rolls at other exchange locations in Washington, DC.
Special attendees
Special attendees at the ceremony included Edmund Moy, Director of the United States Mint; Dr. Donald Kennon, Chief Historian of the U. S. Capitol Historical Society; and Eileen Mackevich, Executive Director of the Abraham Lincoln Bicentennial Commission. The ceremony was followed by a roll exchange where attendees were allowed to exchange currency for rolls of the new cents. Exchanges were limited to a minimum of two rolls and a maximum of six rolls per person, although multiple passes through the exchange line were allowed.
During the ceremony, the United States Mint announced the reverse design selection for the 2010 Lincoln Cent. The new design featuring the union shield represents President Lincoln's preservation of the United States of America as a single and united country.
Photos from the event are included below, courtesy of Coin Update News.