The Lincoln Coin and Chronicles Set (Buy on eBay) was created by the United States Mint for the bicentennial of Abraham Lincoln's birth. The set includes proof versions of the four different 2009 Lincoln Cents and the 2009 Lincoln Silver Dollar, as well as additional materials related to Lincoln. The set was limited to production of 50,000 units.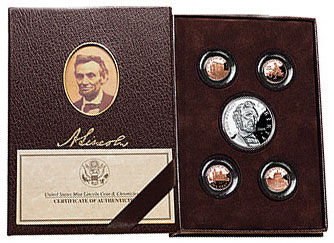 The coins and historical materials were packaged in a leather-like tri-fold case with protective slipcover. The following were included within each set:
Four Proof 2009 Lincoln Cents – The four different reverse designs represent the different stages of Lincoln's life. This includes his Birthplace and Childhood, Formative Years, Professional Life, and Presidency. The coins are struck in a composition of 95% copper, 3% zinc, and 2% tin, which matches the composition of the original 1909 Lincoln Cent.
Proof 2009 Lincoln Commemorative Silver Dollar – These commemorative coins were limited to an overall mintage of 500,000. The 450,000 coins allotted to individual coin sales had sold out earlier in the year.
Reproduction of a Photograph of Abraham Lincoln
Reproduction of the Gettysburg Address – This is a copy of the original in Lincoln's handwriting.
Certificate of Authenticity
The 2009 Lincoln Coin and Chronicles Set went on sale at the United States Mint on October 15, 2009, priced at $55.95 each. Collectors purchased the entire production of 50,000 sets with a few days. The Lincoln Coin and Chronicles Set immediately began selling for a premium on the secondary market and continues to be popular with collectors.