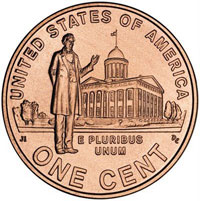 The launch ceremony for the third design for the 2009 Lincoln Cent was held on August 13, 2009 at 10:00 AM CT at the Old State Capitol in Springfield, Illinois.
The site for the release ceremony was a fitting one, since the building is depicted on the reverse design of the coin. Abraham Lincoln is shown dressed in professional attire before the Illinois State Capitol Building. It is intended to be representative of his "Professional Life" spent in Illinois from 1830 to 1861. The reverse was designed by Joel Iskowitz and sculpted by Don Everhart.
The obverse of the coin features the bust of Lincoln originally designed by Victor D. Brenner.
An estimated 3,000 people attended the launch ceremony for the 2009 Professional Life Lincoln Cent. This was roughly the same number that had attended the previous launch ceremony. US Mint Director Edmund Moy was on hand to present the new design, joined by US Senator Dick Durbin.
Children in attendance received a free penny. Other attendees had the opportunity to exchange currency for rolls of the coins. Each attendee was limited to a minimum of two or maximum of six rolls. A total of 20,000 of the 2009 Lincoln Cent rolls featuring the new design were exchanged at the event in about two hours time.
Event photos for the August 13, 2009 Springfield, Illinois launch ceremony are provided courtesy of Michael Forader.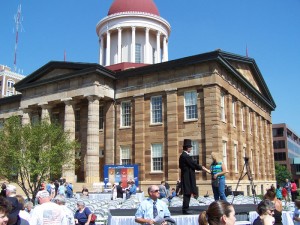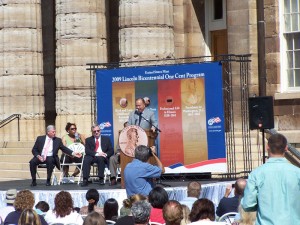 < Lincoln City, IN | Washington, DC >