Following the four different reverse designs to celebrate Abraham Lincoln's Bicentennial, the 2010 Lincoln Cent (Buy on eBay) was released with a fifth and final new reverse design. This is expected to become the new permanent design for the one cent coin for the foreseeable future.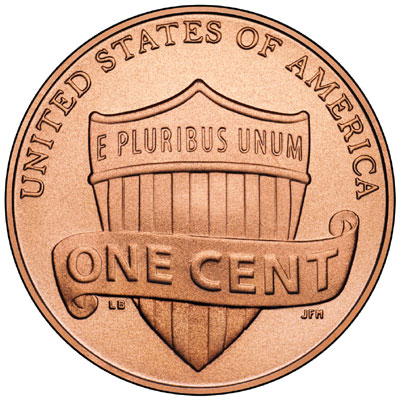 The design for the 2010 Lincoln Cent is intended to bear a design emblematic of President Lincoln's preservation of the United States of America as a united country, as specified under Public Law 109-145. A depiction of the Union Shield was chosen for this purpose. The shield consists of 13 vertical stripes bound by a single horizontal bar. This represents the original 13 states which were joined together as a compact union in support of the federal government. The design dates back to the 1780's and was used as a central symbol during the years of the Civil War.
The obverse of the coin continues to feature the bust of Abraham Lincoln designed by Victor D. Brenner, which has been used continuously the past hundred years. Details of the original portrait used for the 1909 Lincoln Cent have been restored.
Design unveiling
On November 12, 2009, the United States Mint unveiled the new design. This took place as part of the launch ceremony for the 2009 Presidency Lincoln Cent, the last of the four rotating reverse designs issued for the Bicentennial.
The 2010 Lincoln Cent was officially launched at a ceremony held on February 11, 2010 at the Abraham Lincoln Presidential Museum in Springfield, Illinois. The ceremony was attended by at least 400 people and was followed a roll exchange.