The third reverse design for 2009 Bicentennial Lincoln Cents depicts Lincoln's professional life spent in Illinois (Buy on eBay). Chronologically, this covers the years of his life from 1830 to 1861.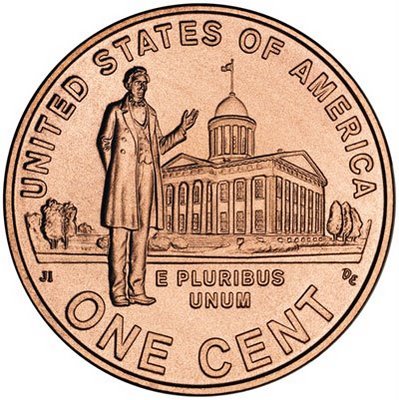 The reverse depicts a young professional Abraham Lincoln standing before the Illinois State Capitol building. Fittingly, this building was the site of the official launch ceremony for the coins. The words "United States of America" appear above the scene with the motto "E Pluribus Unum" and denomination "One Cent" below. This third reverse design for the 2009 Lincoln Cent was designed by Joel Iskowitz and sculpted by Don Everhart.
The 2009 Professional Life Lincoln Cent was released into circulation on August 13, 2009. The official launch ceremony was held in Springfield, Illinois at the State Capitol building, which is depicted on the coin. About 3,000 people attended the ceremony, with a total of 20,000 rolls of the new pennies were exchanged at the event.
See also: