The fourth and final reverse design for the series of four 2009 Bicentennial Lincoln Cents represents Lincoln's Presidency in Washington, D.C. (Buy on eBay) Chronologically, this covers the final years of his life from 1861-1865.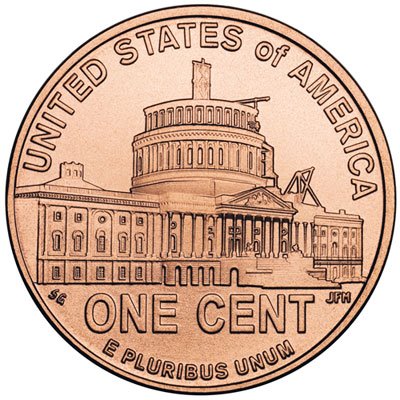 The reverse depicts the United States Capitol Dome, which is half completed. This is intended to represent the unfinished business of a Nation torn apart by the Civil War. The inscriptions on the reverse read "E Pluribus Unum", "United States of America", and "One Cent". This reverse was designed by Susan Gamble and sculpted by Joseph Menna.
The coin was first released into circulation on November 12, 2009. On the same date, an official launch ceremony was held in Washington, DC at the Ulysses S. Grant Memorial Statue. Amidst inclement weather, approximately 200 people attended the ceremony. During this event, the design for the 2010 Lincoln Cent was unveiled for the first time.
See also: