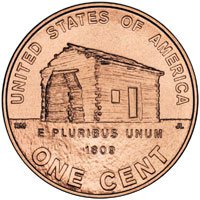 A popular method of collecting the new 2009 Bicentennial Lincoln Cents is by the roll (Buy on eBay). Each roll contains 50 coins, allowing collectors to put aside a good number of coins, usually in uncirculated condition. Rolls have the advantage of easier acquisition and storage. There are several options for Lincoln Cent roll collectors.
US Mint Two Roll Sets
The United States Mint offered 2009 Lincoln Cent Two Roll Sets. These sets contain one roll of 50 coins from the Philadelphia Mint and one roll of 50 coins from the Denver Mint. The coins are packaged in custom designed wrappers which indicate the design of the coins, the mint, and the face value.
Two Roll Sets were offered for each of the four different reverse designs, as well as the 2010 Lincoln Cent. The sets were priced at $8.95 each. The first set featuring the Birthplace design sold out after two weeks and sells for a large premium on the secondary market. The Two Roll Sets can be a good option for someone looking for a unique Lincoln collectible from the US Mint.
Bank Wrapped Rolls
Although distribution of the new 2009 Lincoln Cents has been somewhat spotty, it was possible to obtain bank wrapped rolls from some banks. For anyone lucky enough to find a bank with a supply of the coins, they could be obtained at face value.
Secondary marketplaces and coin dealers also have a brisk business in selling bank wrapped rolls, although they are sold at premiums above face value.
The launch ceremonies held for the release of each new design were another dependable source for bank wrapped rolls. Following each ceremony, attendees had the opportunity to exchange currency for rolls of the newly released pennies at face value. Typically, the US Mint also held coin exchanges at several locations in Washington, DC to coincide with the circulation release date for each new design.
Sealed $25 Boxes
Sometimes entire sealed $25 boxes of the new 2009 Lincoln Cents could be obtained. These are typically acquired from banks that are able to order the new cents in quantity or on the secondary market. Each $25 Box will contain 50 rolls of uncirculated Lincoln Cents, containing 50 coins per roll. That makes for a total of 2,500 of the new Lincoln Cents in uncirculated condition.