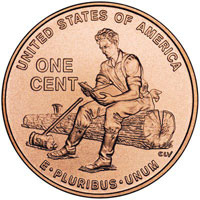 The launch ceremony for the second 2009 Lincoln Cent design took place on May 14, 2009 at 10:00 AM CDT. It was held at the Lincoln Amphitheater, located at Lincoln State Park in Lincoln City, Indiana.
The second Lincoln Penny features the railing splitting design, representing Abraham Lincoln's formative years spent in Indiana. The design depicts a young Abe Lincoln taking a break from splitting rails to read a book and educate himself. This reverse was designed and sculpted by Charles L. Vickers. The obverse of the coin features the portrait of Abraham Lincoln designed by Victor D. Brenner.
An estimated 3,000 people turned out for the event. The launch ceremony was conducted by United States Mint Director Edmund Moy. Also taking part in the ceremony were over 200 elementary school students and the actor portraying young Abraham Lincoln in an upcoming theatrical production to be held in the Lincoln Amphitheatre.
Children in attendance received a newly minted 2009 Formative Years Lincoln Cent for free. Others had the opportunity to exchange paper bills for a minimum of two or a maximum of six rolls of coins. An estimated 20,000 Lincoln Cent rolls were exchanged at the event. This was double the amount exchanged at the first ceremony.
Event photos for the May 14, 2009 Lincoln City, Indiana launch ceremony are provided courtesy of Michael Forader.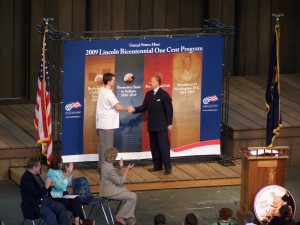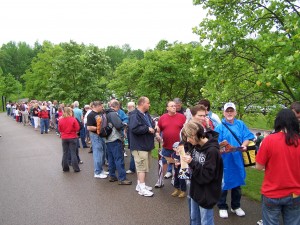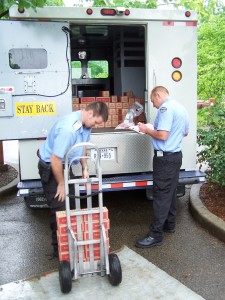 < Hodgenville, KY | Springfield, IL >